About Bob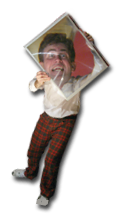 Bob Kulhan is a co-founder of Baby Wants Candy and has been performing, teaching & studying improv and sketch comedy since 1994 in Chicago and since 2009 in NYC.  Bob was trained in improvisation by Del Close, Matt Besser, Amy Poehler, Tina Fey, Susan Messing and others at Chicago's ImprovOlympic theater, Mick Napier at The Annoyance Theater, and taught and mentored by Martin de Maat at The Second City (among so many other greats in all 3 fantastic schools!).  Bob currently performs in NYC with Baby Wants Candy (Soho Playhouse), The Scene (The PIT), Dos Experimento! (The PIT), Mystic Improv (The PIT) and The Windy Pendejos? (The PIT and… really wherever the heck else we can play!).
Bob's has created more than a dozen one-man and sketch comedy shows.  You can find his characters on YouTube videos ("The BonVivant Gourmet" "SafetyMen" & the hit Holiday song "Christmas Hot Pants")
For the last 24 years Bob has performed and taught improvisation internationally.  His teaching and performing credits include Chicago's famed The Second City, Improv Olympic, The Annoyance Theater, The PIT, Columbia College, London TheaterSports, The Banff Centre, The Australian Graduate School of Management, and Koç University in Istanbul, University of South Carolina's  The Darla Moore School of Business, UCLA Anderson School of Management, Columbia University Business School, and Duke University's The Fuqua School of Business.
In addition to all things improv, Bob is passionate about cooking, SCUBA diving, and Brazilian Jju-Jitsu.  Please, if you have any decency whatsoever, visit www.BobKulhan.com
Oh wait!  You are here?
Then visit me on Twitter too!: @kulhan