Bob Kulhan is a founding member of *Baby Wants Candy* and has been performing & teaching & studying improv and sketch comedy since 1994 in Chicago and since 2009 in NYC. Bob was trained in improvisation by Matt Besser, Amy Poehler, Tina Fey and Del Close at Chicago's ImprovOlympic theater, Mick Napier and Susan Messing at The Annoyance Theater, and taught and mentored by Martin de Maat at The Second City (among so many other great teachers & coaches – Michael Gellman, Norm Holly, Joe Bill, Mike Coleman, Scot Robinson…. so many!).
Bob currently performs in NYC with *Baby Wants Candy* (Soho Playhouse), *The Scene* (The PIT), and *The Windy Pendejos?* (The Creek & Cave…and…wherever else we can play).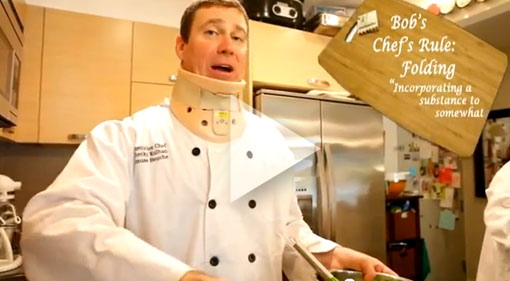 Susan Messing, host of PBS Rhode Island's hit cooking show, "Fui de Mer," joins the Bon Vivant Gourmet in this week's episode, "Messing with Kugel". Together they each prepare their own version of the Traditional Jewish dish: Susan cooks a Sweet Kugel while Bob breaks the mold with his Savory Kugel.

Shecky Kulhan

(click image for video)

Bing Faithful

(click image for video)

Langoustine

(click image for video)